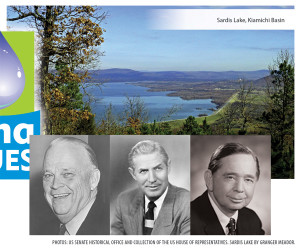 It has been asserted for the last several years that the stored water in Southeastern Oklahoma was intended for use outside that area. For instance, some have suggested that the lakes of Southeast Oklahoma were 'always meant' for North Texas, Oklahoma City, and/or Western Oklahoma.
More recently, this version of history has been attributed to former Senator and Governor Robert S. Kerr. Could it be true that Senator Kerr and his colleagues pushed for dam construction on this premise?
Contrary to rumor, historical transcripts of speeches given by Senator Kerr, Representative Carl Albert of McAlester, and Senator Mike Monroney of Oklahoma City illustrate a collective voice in prioritizing the needs of local citizens over outside interests.
Furthermore, they petitioned that lakes be of use beyond flood control so as to benefit rural economies, ways of life, and future generations. Speaking of the Kiamichi Basin in Hugo in 1956, Senator Kerr emphasized the supremacy of meeting the water needs of local people.
"My position is that the waters should be impounded on the basis that meets the wishes of the people of the area. That is Number 1. Number 2, that reservoirs be designed consistent with that principle, so as, to completely conserve the waters that fall on this great watershed. Number 3, that they be used first to meet the needs of the people in the area where the waters fall and where they are impounded."
Representative Carl Albert's words harmonize with those of Senator Kerr, stressing that dam projects must not only be acceptable to the local people, but that development must be beneficial to them.
"It is my judgment that a county or an area which gives up the land to be flooded not once every ten years, not once every five years, not once every 30 years, but for all time to come should get some of the benefit out of the project which takes their land off the tax rolls… and one thing we want to be sure of is that if that dam is built and the dams that are built are not only acceptable but beneficial to the people that live in this area."
In fact, Senator Monroney eloquently elaborated on a point made by both Senator Kerr and Representative Albert. Southeastern Oklahoma has always been envisioned as world-class spot for recreation, tourism, and agriculture – all of which depend on sustainable supplies of surface waters. Senator Monroney, from Oklahoma City, asked that the interests of Southeastern Oklahomans be protected:
"I feel we can approve, as a result of this hearing and as a result of the appropriations which Carl Albert and Senator Kerr secured for a restudy of a resolution to bring the maximum benefits to the people of southeastern Oklahoma in impoundment or in an ultimate water supply from a vast and tremendous supply of water that will not only serve the beneficial purposes of the original authorization [of flood control] to protect those people downstream on the main stem of the Red River, but to transform southeastern Oklahoma into a veritable garden spot for vacationists, into an industrial location that would be second to none, and into an agricultural paradise that could well develop with development of the transference of this dam."
The Red River Valley Association (RRVA), comprised of stakeholders from Oklahoma, Texas, Arkansas, and Louisiana, also testified that any impounded waters in Southeast Oklahoma must first benefit of the local citizens. I.D. Hartwell of the RRVA stated, "We believe that Southeastern Oklahoma should have prior claim and should be given the first priority in the use of this water…"
Full Transcript available: